WAIKANAE BOATING CLUB HISTORY
Compiled by former Commodore Chris Turver
FROM WINDSWEPT SAND TO POPULAR BOATING CLUB
Recreational fishing at Waikanae Beach started to become a way of life from the early 1940s
There was beachfront but no club house and locals and holidaymakers used a few available farm tractors to launch boats down a sandy beach cutting at the seaward end of Waimea Road.
In 1943 one of Waikanae's first real estate agents Wilf Harry became the second owner of an emerging motor camp on 32 acres of beach front stretching from what is now the Boating Club to Eruini Street and along both sides of Tutere Street.
It was part of the Ngarara West Block and he took ownership of Lot 62 on DP7203.
Wilf's daughter Jenny Algar, who lived close by, recounts how quiet and peaceful life was outside the holiday season and her enjoyment of horse riding over miles of undeveloped beachfront and selling camper essentials from the local campers shop.
Gradually the Waikanae Beach Motor Camp grew with caravans and tiny houses, some owned by surfcasters and boat owners, and relying on long drops and collected rainwater to get through hot summers.
Wilf grew the camp until selling it in 1975, opening the way for serious residential sub-divisions and a rapidly increasing population
His gift to the fishing community was a small block of land at the north end of the motor camp which was part of a designated recreational reserve under Horowhenua County Council, complete with toilet facilities.
It was the early boat owners who formed Waikanae Boating Club in 1961 and formally constituted in 1966 with Waikanae resident Oswald (Ossie) Olliver as the first Commodore.
At the 1966 AGM it was clear discussions had already started with the then Horowhenua County Council for the lease of 'the Domain area for the erection of a Pavilion' (club house).
The only building on the site at the time was the original HCC toilet block, still there in 2022.
In October 1966 the committee met to determine the site of a proposed building, peg the site, and a month later a draft lease was tabled.
At the same meeting the committee saw the start of what would become a forerunner for a Coastguard role as a report was received on discussions with the local Civil Defence Controller on committee members who could be called out in a marine emergency.
In February 1967 the rough sand beach access launching track from the building site was reinforced by volunteers free of charge with loose fill and 'general satisfaction was expressed' by the committee'.
In April 1967 it was back to square one with the club house when the HCC County Engineer calling a meeting to discuss resiting the planned building so it 'was more in line with the (HCC) toilet block' and providing a concrete floor for the new building.
At the AGM two months later the Commodore reported that building plans had been prepared and talks had been held with neighbours and the Waikanae County Town Committee (now Waikanae Community Board).
It was stressed that the club was now under 'some obligation to proceed' as a condition of the lease and by September 1967 one 'tentative quote' had been received that led to suggestions for seeking quotes from trade members.
By November 1967 the HCC had produced a draft lease but the committee wanted further answers. By June 1968 the AGM had approved the terms and was considering how to raise finance, with debentures discussed.
In July 1968 the Commodore expanded on the clubs emerging lifesaving role by proposing establishment an 'Aquatic section of Civil Defence' which would allow the club to seek funds from Golden Kiwi and a letter was sent to the County Town Clerk suggesting that the club's base radio be used for emergencies.
By September 1968 the HCC lease had been signed and Mr L Walton had been commissioned to draw up plans for the pavilion and provide a firm price for construction which were to be in the hands of the County Clerk by March 1969 with the goal of then re-advertising for tenders.
Some design changes were required by HCC, coupled with delays in getting neighbours approval.
Records are scanty between the eventual sign off of the plans and completion of the 'Pavilion' in 1970, but anecdotally almost the entire building and fit out came through generous donations by members and voluntary labour by local tradies.
The first AGM to be held in 'the new clubrooms' was on 13 June 1970 with 47 members under the chairmanship of the long-time Commodore Oswald (Ossie) Olliver .
To show how little has changed, agenda items discussed included increasing membership, the annual fishing competition and childrens day, a members trip around Kapiti Island, the registration of member boats, setting a $5 fee for use of an about-to-be acquired club tractor for members only, and the possibility of constructing a tractor shed.
By July 1971 when Ossie stepped down as Commodore, after 10 years in office, Club membership had reached almost 200 and the club badges and flag had been designed.
Subsequent Commodore's who continued the development of the club were businessman George Hodgson (1970-72), N.V Beardsley (1972-73), T Guderson (1973-75), Ted King (1975-83) and then a return stint from Ossie Olliver in 1983.
(With thanks to Jenny Algar, daughter of Wilf Harry, for her knowledge of the early days and the WBC's early Minute Books)
COASTGUARD RESCUE VESSELS
Until the early 1980s, the Club had relied for volunteer rescues on its own members boats and a patchwork of local CB radio communications.
Waikanae Boating Club affiliated with the Royal New Zealand Coastguard Federation in an effort to patch in to emerging national support services
Through the 1980s until the mid-1990s, Waikanae Coastguard had relied on a 3.2 Naiad inshore rescue boat donated by the then Waikanae Motor Hotel, a 5 metre Plylite fibreglass half-cabin donated by local philanthropist Virginia Todd – and on members own boats for offshore missions.
The then vice-commodore Chris Turver – soon to become the first CEO of the RNZCF – realised that the club could not go on expecting members to put their lives at risk with inadequate equipment and support..
Waikanae Coastguard's first offshore rescue vessel 'Waikanae Rescue' was launched in 1996 with the purchase of a $35,000 Naiad rigid hulled inflatable powered by twin outboards.
The modern 6.8 metre vessel was one of the first to be commissioned as part of the Royal New Zealand's Coastguard Federation's growing network of upgraded marine rescue units around the coast of New Zealand on the major lakes.
Funding was raised through Waikanae Community Board ($16,000), the Lottery Grants Board ($12,000), and local donors including members of WBC.
CB radios were progressively replaced with VHF radios and, through an agreement between the RNZCF and Trade and Industry Department all Coastguard units were authorised to take over VHF training and charge for courses
Training programmes were introduced for crew members to reach standards set by the RNZCF, including Boatmaster and Day Skipper courses, and VHF radio training.
These courses spearheaded by volunteers like Frank Tilly and Dick Milligan were offered to members of Waikanae Boating Club and became a popular way of improving boating capability and safety at sea.
A further step after buying 'Waikanae Rescue' was to fund-raise for electronic equipment including radar and electrical navigation equipment, particularly for use in night searches.
With growing demand for Coastguard services along the long stretch of dangerous coastline from Wellington to Foxton, it was clear greater co-ordination of lifesaving efforts was necessary.
In February 2006 Waikanae Coastguard amalgamated with the Paraparaumu-based Kapiti Coastguard to form Coastguard Kapiti Coast and the two units work closely together.
Since 2006 callouts have averaged more than 30 a year.
In 2009 the 13-year-old 'Waikanae Rescue' was replaced with 'K2 Rescue'. a modern 7.3 metre diesel-engined jet boat costing $440,000, and in 2018 Kapiti Coastguard's 27-year-old diesel jet boat 'Pharazyn Rescue' was replaced with a 9-metre diesel jet boat, "Freemasons Rescue".
Both are long range vessels are capable of dealing with bad conditions and Kapiti coast is well covered for emergency searches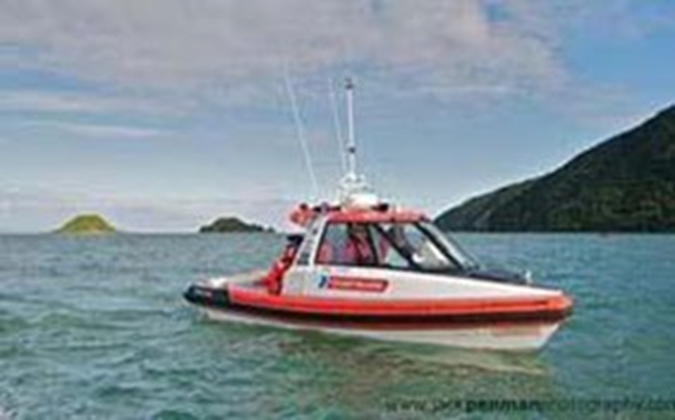 K2 Rescue
Freemasons Rescue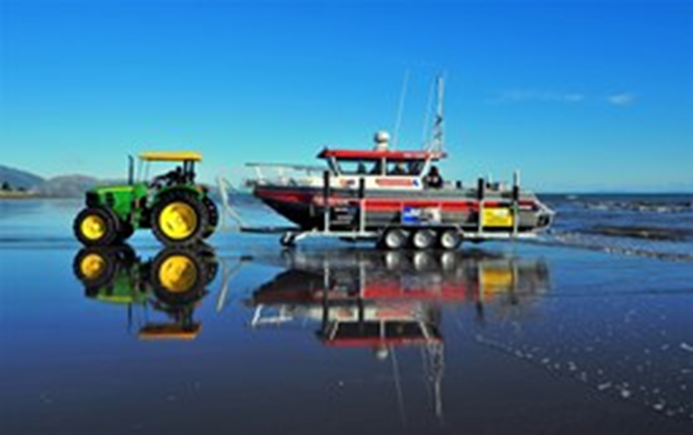 ROLE IN ESTABLISHING MARINE RESERVE
A major battle was fought by Waikanae Boating Club between 1989-92 over plans by the Department of Conservation to block off almost half Kapiti Island from recreational fishing.
Background
In early 1989 the Department of Conservation prepared a discussion document on the "Protection of the Marine Environment around Kapiti Island".
Its goal was to create the third marine reserve in New Zealand following the establishment of the Leigh reserve, north of Auckland, and Poor Knights Islands.
Had the original plan not been opposed by Waikanae Boating Club, with support from Kapiti Boating Club, Otaihanga Boating Club, Raumati Boating Club and Kapiti Underwater Club, the marine reserve would have been almost twice its size and threatened boating safety.
WBC'S Commodore Mike Bramley and Vice Commodore Chris Turver led the opposition based on research which saw the Minister for Conservation reducing the planned scale in early 1992 to its present shape.
In the process, intensive lobbying with Kapiti Coast District Council and Wellington Regional Council persuaded them to withdraw their support for the original proposal and agree with the safer option.
The legacy is a marine reserve which gained general buy-in by recreational fishers because it preserved boating safety and led to regeneration of depleting resident fish stocks.
How it Started
DoC had a plan in 1988 which involved creating an on-shore Scientific Reserve covering the entire lower Waikanae river and estuary and linking that with a Marine Reserve around almost half Kapiti Island.
The goal was "to establish an environment of rich plant and animal communities" but while the value of the Marine Reserve is internationally recognised, the Scientific Reserve established in 1992, failed through DoC neglect, extensive loss of marine habitat through urban development, sedimentation, and shingle build up..
Marine Reserve
When the plans were first mooted in 1989, there was widespread community support for the concept and a first discussion document was issued in 1990.
Boating club members became increasingly concerned with the realisation that the scale of the proposed reserve – particularly the back of Kapiti Island – would create safety risks including:
being caught in bad weather
dangers from an original ban on anchoring in the reserve for safety
breaking down
facing a medical emergency
few cellphones (in those days) and limited cellphone coverage
losing VHF radio contact behind Kapiti Island
In the decade to 1990 eight people drowned in Kapiti waters from boating-related accidents and seven off Kapiti Island itself.
Discussions were held by WBC with Kapiti Boating Club, Kapiti Underwater Club, Otaihanga Boating Club, and Raumati Boating Club, leading to the formation of a consortium which twice negotiated with DoC senior staff for the final outcome of the modified plan which went out for final public consultation.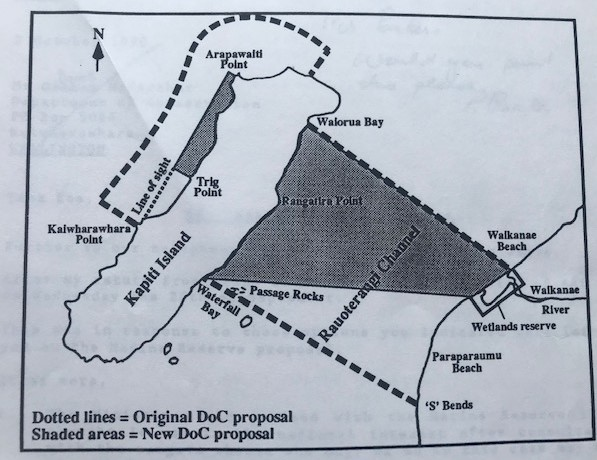 Conservation Minister Denis Marshall reported in late 1991 that from the 2,500 submissions there was 75 percent approval for the original plan, 17 percent support for the modified plan, and eight percent opposed to any reserve.
He accepted a modified marine reserve which was officially opened in May 1992.
Kapiti Marine Reserve Committee
WBC was invited with KBC to each nominate a recreational fishing representative on this Ministerially-appointed committee which had the job of setting policies and objectives aimed at improving the marine environment and building fish stocks.
Chris Turver was appointed by WBC and served for 15 years before the Marine Reserve Committee was disbanded in 2008 after doing its job in:
– developing public and recreational fisher acceptance for the value of a reserve and compliance with the rules
– building resident fish stocks
– promoting the value of the reserve nationally and to the local community
Inshore Trawling
In the late 1980s and early 1990s there was growing concern by recreational boaties and the public about the effects of inshore trawling – including through the inshore channel to Kapiti Island – on fish stocks.
Trawlers and long liners were fishing close in shore, often lit up at night.
Waikanae Boating Club played a leading role in trying to find a solution and meetings with Wellington region trawlermen were held at WBC and Kapiti Boating Club to try to reach a voluntary agreement.
The national quota system introduced in 1986 started to make a difference in limiting commercial catches but it would take some years before the numbers of popular species like snapper began to improve.
Following the establishment of Kapiti Marine Reserve in 1993, the Ministry of Fisheries weighed in and the result was agreement to a no-trawling zone out to the 20-metre contour depth along the entire Kapiti Horowhenua shoreline.
It specifically includes a buffer zone around Kapiti Marine Reserve.
Breaches should still be reported to MAF on 0800 476 224 and giving, where possible, the name and number of the vessel, its general description, and the time and date of the observation so that MAF can take an apparent breach up with the company concerned.
———————————————