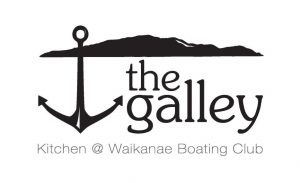 Bar Snacks & Entrees

Mains

Fries with aioli

Bacon & egg burger ~ streaky bacon, free range egg, lettuce, caramelized onion & aioli in our house baked bun

*Add fries $3

 

Garlic pizza bread with almond cream

Prawn cutlets~ 8 marinated prawns in garlic, lemon & fresh herbs with a citrus chilli sauce

Sesame crumbed kapiti brie ~ (deep fried) with a ginger plum sauce

 

Galley's Pizza ~ Chicken, bacon & capsicum with bbq sauce

* Vege pizza available

Mini Meals (children)

Pasta – ask the kitchen for todays option

Battered fish of the day & chips with fruit or salad

 

Prawn cutlets & chips with fruit or salad

Mini pizza ~ chicken, bacon capsicum & cheese with chips

Kids Ice Cream Sundae ~ chocolate,

berry or caramel  $3 *Adults $6

Hours:  Thursday from 4pm

Friday from 4pm  –  Sat & Sun from 3pm

*Like us on facebook

Also available for functions, contact Alan: 027 844 9207

5

10

9

10

10

18

10

10

10

10

Chicken salad~ Grilled chicken breast with sesame crumbed Kapiti brie on seasonal salad greens & caramel toasted seeds topped with a fresh mango & capsicum salsa

 

Fresh Fish & prawn salad~ Fresh pan fried catch of the day & garlic prawn cutlets on salad greens with a citrus chilli dressing & mango capsicum salsa

Galleys Burgers ~

*Eye fillet & aioli

*Fresh pan fried fish & tartare

*Grilled chicken & jalapeno mayo

In our house baked bun with greens, cheese, gherkins & fries

 

Pork belly ~ slow braised asian style pork belly with crispy crackle, potato mash & slaw, drizzled with an orange glaze

Fish of the day~ see specials board

 

Pasta of the day ~ see specials board *Vege option available

Eye Fillet steak ~ with hand cut agria wedges, salad & a creamy garlic & mushroom sauce

*Add prawns or 2 free range eggs to any main meal

 

*All meals available as takeaway

*Desserts – see specials board

*Nesspresso coffee $3

20

24

20

21

25

4
The Waikanae Boating Club/Galley Restaurant operate from Licensed Premises and are for the use of Financial Members and their guests who must be signed in via the Guest/Visitors book provided.. These facilities are not open to the General Public.
Club Operating Hours:
Thursday: Bar Open From 4pm – Kitchen open from 5pm
Friday:  Bar & Kitchen Open from 4pm.
Saturday:  Bar & Kitchen Open from 3pm.  
Sunday:  Bar & Kitchen Open from 3pm.  
Closing times will vary and often change if the club is busy.